Vineyard Kids is the children's program here at VCC!
In Vineyard Kids, our goal is to teach the story and love of Jesus. We strive to bring biblical stories and lessons to life through creative activities and discussions that keep kids engaged. We are passionate about supporting kids in each stage of life, so we provide options from birth-4th grade during our weekend celebrations. If you have kids above the 4th grade, click
here
to view our student program!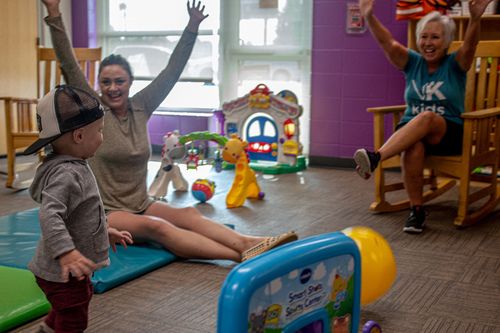 You can expect your kids to learn about the Bible and who God is through fun games, activities, small groups, and video lessons. Our rooms are designed for your child to grow with kids in the same age group (yes!—they make friends, too). Our trained leaders in Vkids make sure that no child is left out and all children feel safe and secure. In the event we need to contact you during the celebration, you will receive a call or text from one of our
team leaders.
Safety is the highest priority for us here in Vkids. On your first visit, you'll be greeted by one of our volunteers who will walk you through the check-in process. Upon check-in, you'll receive matching identicfication stickers for you and your child. These stickers will be used for check-in and check-out at all of the classrooms. All of our leaders in Vkids are screened, background checked, and receive proper training from our Staff (we also have an amazing security team that watches over the halls too)!
Help kids become faith-filled followers of Christ!
All volunteers will be subject to a background check.